How should one spend 48 hours in Phnom Penh? Sadly, most tourists to Cambodia are coming over from Thailand and on their way to Vietnam. There main "to do" is to visit Angkor Wat in Siem Reap, and pass through Phnom Penh for a night or two. So here is a guide to your 48 hours in Phnom Penh. If you need to store your luggage check out my new valet storage company
Waking up I suggest getting breakfast on the riverside. A popular place is Mekong River, but their buffet is bad, but it is cheap. Instead, I recommend going to Titanic. It is close to the north end of riverside close to the night market across from street 108.The breakfast is about 3 US dollars and is a simple breakfast with a juice or coffee. The main reason to go here for breakfast is the view is awesome, and it isnt cheap during dinner.
After breakfast I would head over to the Royal Palace and do that touristy part.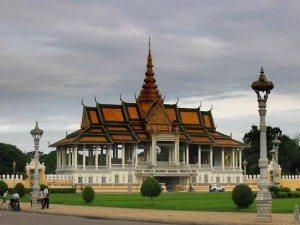 You can look around the silver pagoda, and take some nice photos. Also of interest would be feeding the many birds that are around the Palace. This is also on Riverside so close to Titanic restaurant.
Next I suggest getting a tuk tuk for the rest of the day, and go out to the killing fields before it gets too hot. Plan to spend about 30 minutes there, 2 hours to look around and 30 minutes to get to the next destination. After the killing fields, the next usual stop is toul sleng museum). This is a famous prison where the Khmer Rouge tortured many people and then killed them. Some people go to the prison first and then the killing fields to experience the numerical order that the Khmer prisoners went through. If doing this just remember the killing fields is out in the sun mostly, while the prison is mostly spent walking around an old school building/prison.
For lunch I would go to Boddha Tree which is really close to the museum, or head over to the next location which is going be the Russian market or toul tom pong. This market you can buy fake clothing, sunglasses, cheap souvenirs, or really anything you wanted. Also located in this market are numerous food vendors that sell cheap tasty food and are use to foreigners. If you get here around dinner time, there are some seafood places on the outside of the market at night that sell some really good food too.
Now it is getting dark and we are going back to where we started. Right by the Titanic restaurant there is a boat that will go on a small cruise for 5 US dollars (10,000 riel for Khmers). If you want to save a couple bucks you can go by Naga world ( the big casino on the opposite end of riverside) and take a ferry for 500 Riel one way. If you have a motobike or a motodop add 500 Riel for the vehicle. The ferry will go across and come back, doing the same thing as the cruise for a lot cheaper and more authentic experience.
Next most tourists get drunk…there are many different places that cater to different tastes, up to you where you go on this one. If you get hungry at night go to street 51, Pasteur rue and eat at a small pizza street place called katy perrys. It is very small, but you will see it because all chairs will be taken. The pizza is cheap, like 2.50 – 4 US dollars for a decent size pizza and has great people watching opportunities.
Next day
You are probably to tired to get up for breakfast….but if you are not, then get some street food…the locals breakfast which is rice with pork or chick. Just look for a lady with a big steam cooker with rice in it and ask for, "bii saiik jruuk" and will get  rice with pork, or just point at what you want. It usually comes with an egg for an extra 1000 riel (25 us cents).
After breakfast drive by Independence monument,  drive by Hun Sen's house (one of many, he probably never steps foot in this house.), and Wat Phnom. Right next to Wat Phnom is the Raffles hotel which is famous for Jackie Kennedy visiting there. This place is very expensive, but their bar, Elephant Bar, is okay and can order one drink and feel like a movie star.
Next, take a tuk tuk to silk island which is only 10 to 15 minutes away, but will feel like you are in the provinces. It is very laid back here and even has a small beach there. They also weave silk there and you can buy/watch how they make it.
Next or instead if you want to relax go to Cambodiana hotel and pay 10 dollars to use their pool. The pool is very nice and on riverside; also sometimes they don't charge so if you are lucky, the pool will be free and relaxing!
For dinner I would go to the night market, by street #108 on riverside, which is great spot for cheap shopping, people watching and inexpensive food. For around 3 or 4 US dollars one can be full.
After that go drinking again or relax at one of the numerous cafes :)>